Up until two years ago, everything about children was off my radar. There were no kids to buy for in my immediate family that I needed to worry about, just adults. None of my close friends had any kids either, so no worries there. I walked around either oblivious or annoyed by the little creatures that roamed around attached to their zombie eyed parents.
Then my nephew was born. All of a sudden I was thrown back into the world of things kids like. I haven't lived here since I was myself a child. I had to relearn where all the toy isles were in Target. Wait, they're by electronics? Where is the electronics section again? There is an entire side of Target I avoided for about five years! I started browsing children's clothing too so I could pick him up something cute to wear from his Aunt Di. After my my sister-in law gave birth to my nephew, a few of my other friends started procreating too. Although I don't have my own kids, I find myself in the children's section every couple months or so now purchasing a gift for a baby shower, birthday, or Christmas.
A Sea of Pink and Blue
One thing I really notice is how gendered the toys are. Want a girl's toy? Look for the three rows of pink. Want a boy's toy? Look for the rows of blue and green. It is very obvious which gender the marketers are telling us various toys "should" belong to.
Via Change.org
It annoys me that there should be toys that are for boys and toys that are for girls. Look at that picture above, some of those toys are exactly the same, just colored and marketed differently!
I remember when I was a kid, Christmastime was spent with my little brother and my cousin Jason. We were the 3 children growing up, all about a year apart in age. When it was time to receive gifts, usually the boys would both receive one type of gift (a light-up top, yoyo, or slinky), and I would receive another type (usually a book, maybe a doll). I always remember being disappointed that my gift was different than the boys' gifts. Why couldn't I get the slinky (yes, in this scenario, a slinky is a boy's gift. Also, this really happened to me)? The boys' stuff was always cooler than what I got. Why did I have to be treated differently from them?
As an adult, those memories really resonate with me. Now, when I see the pile of blue at my nephew's birthday, I wonder what would be so wrong if he got a doll—not an action figure, but a doll. He is only just two years old; maybe he would like to hug an cuddle a doll to express his softer side. Or what about a kitchen set? Doesn't that usually go on the girl's side in the gender wars? However, many of the best cooks in the world are men. Did they not play with kitchen sets growing up? That pesky pink color on all these things instantly make other adults around him turn up their noses. Girls play with dolls, not boys. They play sports, or cars.
Teaching Children Gender Roles Through Toys
The problem with this is that he will soon learn what is supposed to be for boys and what is supposed to be for girls. The colors will give it away. And these arbitrary rules will start to limit his experiences. Maybe he'll close himself off from something that he could be really good at and enjoy because it's traditionally seen as a girl's toy or activity. At some point, those colors will influence his decision making too. Shouldn't we let kids explore all options and not limit their imagination when they're so young? Maybe that pink vacuum cleaner will embarrass him and he won't pick that toy even though he is organized and orderly and may like the idea of helping his parents clean. Won't a pink vacuum teach him that cleaning is girls work?
Back in May, an organization called Let Toys be Toys showed a catalogue from 1976 and photoshopped the equivalent products that are presented today. See the how the color has morphed into all pink for these strollers, play houses and such?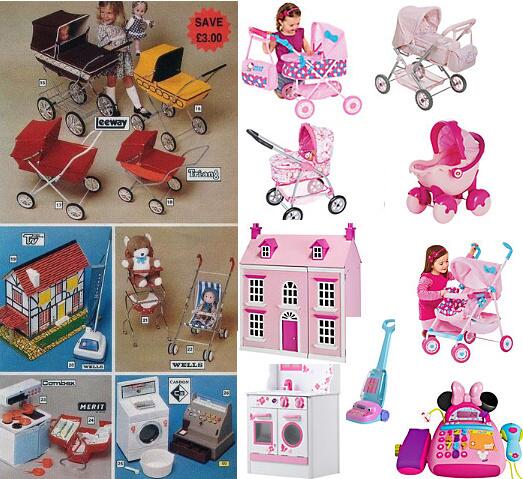 Is the New Wave of Toys Becoming More Gendered?
Because of this supposed gender gap between toys, there are companies that are trying to expand toys traditionally seen for either a boy or a girl to the other sex. The most popular example of this is Goldiblox. You may have seen the youtube video that has been making its rounds on the internet.
The point of this product is to introduce building-block toys (typically seen as a boy's toy) to girls. I've been hearing about Goldiblox for a while. The founders promoted it on Kickstarter, and the concept is more than just making pink playing blocks for girls. The women who started it wanted to get more girls interested in engineering. They created a building blocks system that incorporates a story for the children to follow. The story walks them through an adventure while they simultaneously build a machine with the heroine of the book, Goldiblox. You can hear more about it here from one of my favorite podcasts Stuff Mom Never Told You. Finding ways for girls to be more interested in STEM (science, technology, engineering, and math) is of course a good thing, and I understand Goldiblox's mission. There is a need for more women in these fields.
What I do have a problem with is that Goldiblox is falling into the trap of being pink so it can gear itself towards girls specifically. Instead of bridging the gap, I feel that toys like this may widen it. Why does the system have to be pink? There are tons of science themed toys out on the market, but they are generally all geared towards boys. I bet there are tons of girls who would love a science experiment toy, but aren't getting them because they aren't marketed to them. Maybe girls weren't interested in blocks and Legos before Goldiblox came around because adults weren't buying them for them. Remember earlier in this post how I told you that the boys got Slinkys and I didn't? Yeah, I like blocks and building things too. I remember having them around as kid, but I also had a brother. Who knows if I would have received them if I was an only child or I had a sister instead.
Adults are the Influencers
This is the problem. We as adults start to influence the children around us at a very young age. Sure, they will start to pick the things they idiosyncratically prefer, but often only from the circumscribed options that they are presented, and also based on how they are presented. If we show two toys, a pink one and a blue one, to a five year old boy, he is going to pick the blue one because of what he has been told in the past about the color pink (unless he is bucking authority which is a completely different topic).
I know some people with kids will say that they have a girl who is definitely a "girly girl", or a boy that is "all boy." I get it: kids develop their own personalities. I find it hard to believe, though, that your "girly girl" is completely opposed to learning some type of science experiment or playing a game of imagination with blocks or Legos; or that your "all boy" doesn't have a sensitive side and may be interested in stuffed animals or crafting projects like making something with beads.
We live in a world today where there are more women taking on roles that were traditionally men's roles in the past. Also, we're encouraging more men to stay at home and do some child rearing in exchange for their wives to become breadwinners for the family. If we, as a society, want to stop reinforcing gender stereotypes about what work is "women's work" and what is men's, we need to start in childhood. How can we encourage our children to buck social norms when it comes to gender when we are giving them toys that are undermining that message?